Get Started
Step 1
Step 2
Step 3
Step 4
Step 5
Go Beyond!
Online Application
To hold space in a Putney Student Travel program, please start your online application today. The application must be filled out by a parent. If you have any questions, please call us at 802-387-5000.
Watch Video Overview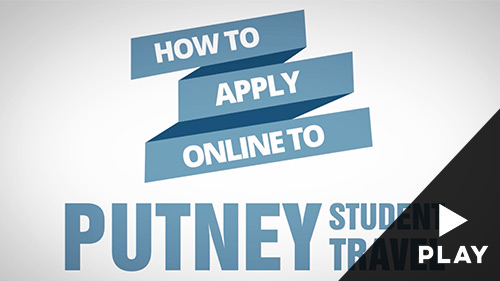 Apply Now
Click here to start your 2024 application.
If applying for a scholarship please do not click the Continue button but instead see information and link at the bottom of this page.
Continue
Log In
Log in here to access your application or Digital Locker. If you traveled with us last year, please log in here to begin a 2024 application.
Apply for a Scholarship
Please note that our scholarship application process is different from our standard application process. Students applying for our scholarship program must be eligible and applications cannot be submitted online.
To view eligibility requirements and scholarship application components, click here.
Putney Student Travel is committed to being allies to and advocates for all of our students. Putney Student Travel staff and leaders pledge to work with families and students to ensure that we are providing a safe and supportive experience for all students regardless of their sex, gender, sexual orientation, race, or religion. We recognize the distinction between sex as a physiological determinant and gender as a socio-cultural identifier and that these qualifiers are independent from sexual orientation.